Issue
HMD Completes Supplying a State-of-the-art Car Ferry Queen Jenuvia
페이지 정보
작성자
최고관리자
댓글
0건
조회
13회
작성일

20-11-17 17:10
본문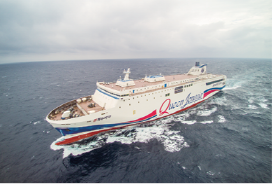 A state-of-the-art car ferry built by Hyundai Mipo Dockyard(HMD), the world's leading mid-sized shipbuilder, departed from Ulsan yard of HMD.
HMD announced today that it recently held a sail-off ceremony for delivering 27,000 gross tonnage car ferry, Queen Jenuvia, to Sea World Express Ferry, the largest domestic car ferry operator.
The ferry with maximum speed of 21.8 knots and capable of accommodating 1,284 passengers, 478 cars and 88 trucks(25 ton) is scheduled to provide the service between Mokpo and Jeju island from end of this month.
The vessel, measuring 170m in length, 26m in width and 14.5m in height, is equipped 116 of luxury European cruise-style cabins with various facilities such as large atrium, cinema, fountains, open terraces and pet rooms.
It is worth noting that the vessel is laid out all amenities such as restaurants, bars and game rooms in one floor and equipped with elevators and escalators to enhance passengers' convenience.
Also, the ferry is equipped with a global positioning system, automatic fire alarm and sprinkler systems plus two marine evacuation equipment and twelve 110-men life rafts and various safety equipment.
A CEO of HMD Shin Hyeon-dae said, "We are honored to have demonstrated our excellent quality and construction capabilities in car ferry sector by delivering state-of-the-art vessel Queen Jenuvia." He added, "Many inquiries are coming one after another from all over the world recently and we will meet the customer satisfaction by building world's best car ferry."
Since the delivery of the first Korean-built car ferry Sung hee for Korean shipping company Bukwan Ferry in 2002, HMD has played a pivotal role to establish a solid foothold in car ferry making industry including a 31,000 gross tonnage car ferry New Golden Bridge 7 for Wiedong Shipping in 2018.
Meanwhile, HMD recently signed new car ferry contract with Steam Packet, one of the oldest European car ferry operator, located in the Isle of Man. The car ferry will be built with latest battery hybrid ferry to reduce local emissions and meet the challenging requirements of vessel's size constraints in ports for freight as well as tolerating harsh Irish Sea.