Feature Story
USE OF REMOTE I/O ON BOARD LNG CARRIERS
페이지 정보
작성자
최고관리자
댓글
0건
조회
51회
작성일

23-09-15 12:26
본문
In these days, natural gas is extracted in remote regions and then shipped half way round the world. To make optimal use of the cargo capacity, special compressors are used aboard production platforms and tankers to cool down and compress the energy carrier into liquefied gas. For several leading manufacturers of these systems, R. STAHL regularly supplies explosion protected IS1+ Remote I/O control stations for use in Zone 1 with intrinsically safe signal circuits, which have to be optimized to overcome the limited installation space at the compressors and fulfil the restrictive requirements for the use onboard LNG carriers.
1. EXPLOSION PROTECTED STATIONS WITH REMOTE I/O FOR LNG COMPRESSORS
Our customers are machine builders specializing in the oil and gas industry. They fit compressors to dozens of large LNG carriers every year. These compressors are installed below deck wherein, outside of the gas tanks, space is rather limited. For this reason, the machines and their affiliated Remote I/O stations with I/O modules and various digital indicators and signaling elements must be compact. And because this equipment is installed in the immediate vicinity of the gas, it is essential that it is Zone 1 explosion protection.
As a long-standing fixture on our customers' list of preferred suppliers, R. STAHL has been working in collaboration with them to obtain ready-to-connect designed control and distribution boxes with Zone 1 Remote I/Os in bespoke stainless steel enclosures in various designs from a single source.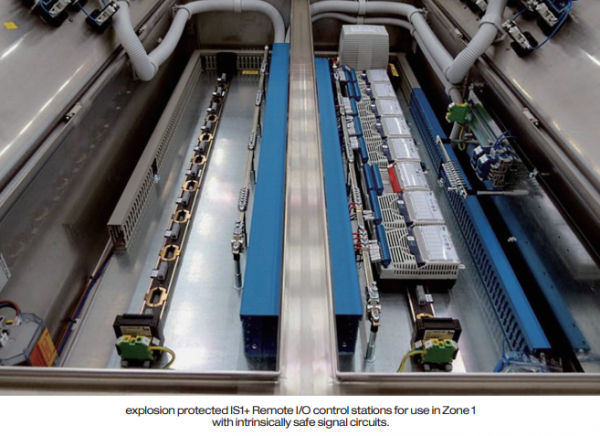 2. THE IS1+ REMOTE I/O SYSTEM FOR MARITIME USE
For more than 10 years, we have been working closely with various compressor manufacturers and leading automation system suppliers to design remote I/O solutions for LNG carriers and FSRU's(Floating Storage and Regasification Unit) that are operated worldwide under the most adverse environmental conditions. Collaboration usually began with comprehensive testing, which included evaluation of the different connectivity options available with IS1+. During this phase the especially compact system design for the stations was also jointly agreed upon in order to overcome potential problems of limited space.
Besides the engineering work for the special field stations, R. STAHL supports its partners also in selecting communication protocols and continued to provide additional services until the ships were handed over and is then also available with comprehensive after-sales support.
The intrinsically safe signals from sensors and actuators around the compressors that are linked via the IS1+ Remote I/O system are transmitted to the distributed control system via e.g. PROFIBUS DP. The number and type of modules used for a broad spectrum of signal types can be tailored to the customer's exact requirements. Thanks to the 8 or 16-channel Ex i modules, the stations can be set up very compactly, resulting in significant space and weight savings compared to conventional solutions.
Another key advantage of the IS1+ Remote I/O system is that the installation is incredibly easy to expand: Further modules can be added later at any time – the operator simply has to plug them in and they are ready for operation. If required, all modules can be added or hot-swapped during operation in Zone 1. The intrinsically safe process bus can be operated with copper conductors or optical fibres and, if required, can be designed with redundancy or as optical ring.
The seawater-resistant enclosure materials and vibration-resistant design of IS1+ Remote I/O systems, coupled with their resistance to the effects electromagnetic energy, which satisfies the increased EMC requirements that apply due to the ship radio, make them perfect for maritime applications. In addition to 12 different ship certifications like e.g. DNV-GL, ABS and ClassNK, IS1+ has numerous other certificates for flexible worldwide deployment. The Zone 1 system passed the rigorous ship tests with flying colours – not only can it be used below deck, but it can also be used universally on deck if required.

3. FIT-FOR-PURPOSE STATION DESIGN
R. STAHL has been installing remote I/O systems on ships and offshore platforms for around 30 years. Besides the IS1+ system, the range of items that we produce for installation on ships includes a vast array of other explosion-protected electrical equipment and enclosures in various version and sizes. The control and distribution boxes for the compressors are protected against explosions by a combination of Ex d and Ex e types of protection and are equipped with indicator lamps, rotary switches and pushbuttons, as well as emergency stop buttons produced by us in-house. Warning and indicator devices or vibration sensors produced by other manufacturers can optionally also be integrated.
In the first instance, the design of the IS1+ stations makes them incredibly easy to install onboard. And when they are up and running, they prove themselves once again with their impressive ease of use. Robust stainless steel enclosures in type of protection increased safety "e" from R. STAHL were used for the compressor control stations. These enclosures offer IP65 protection, with the option to upgrade to a higher level of protection and they are very easy and space saving to connect in series. The compact cabinets from R. STAHL feature slim single, douple or even triple doors to allow easy access(without blocking the narrow passage ways) at the mounting location.
High-quality sealing materials reliably shield the installed equipment from the atmosphere, which is corrosive due to the salt present within it. Even the way the labels are fastened to the cabinet doors has been optimized: They are secured by cap nuts to secure them to the outside. This means no screws need to be inserted into drilled holes that must then be resealed and enclosure's IP protection remains completely intact.
■ Contact: R. STAHL www.r-stahl.com