Feature Story
Fake spares separate marine environment regulation from reality
페이지 정보
작성자
최고관리자
댓글
0건
조회
97회
작성일

23-08-14 16:51
본문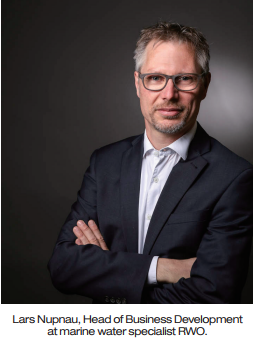 The noble aspirations to protect the marine environment celebrated by 'MARPOL at 50' are undermined when counterfeit parts are chosen for systems on board working ships, says Lars Nupnau, Head of Business Development at marine water specialist RWO.
In selecting MARPOL at 50 as its World Maritime Theme for 2023, the International Maritime Organization highlights both the achievements of crafting the International Convention on the Prevention of Pollution from Ships and the need to keep the marine environment centre stage.
However, while there is no doubt that 'MARPOL at 50 – Our commitment goes on' acknowledges the tireless efforts regulators make to change world shipping for the better, there are grey areas where action appears to be overdue.
When equipment has been designed and certified for its ability to protect the marine environment, using spare parts that have themselves been fully tested and approved is essential for meeting performance expectations. Guarantees, warranties and insurance policies rely on approved spares being used. But maritime regulations remain irresolute on the matter of counterfeit spare parts.
In the case of safety, IMO clamped down on part of the 'grey' market from 2020 by limiting lifeboat/rescue boat and launch/release gear servicing to authorized providers. However, while standards and certification also safeguard the performance of the shipboard equipment protecting the marine environment, owners are actually policed for incidents of pollution.

Separate thinking
A ship's oily water separator(OWS) separates the hydrocarbons from oily water coming from the bilge of a ship so that the output can be discharged overboard in line with IMO MEPC.107(49) limits to oil content of 15ppm.
Last year alone, however, four cases were brought to Prosecution of Federal Pollution Crimes by the US Department of Justice, all of which led to substantial fines – with one bringing jail time. Where inspections often rely on oil content meter readings to verify compliance, one case established that a chief engineer had found a way to dump oily water while the monitor captured zero oil ppm(Oil Tanker Owner and Operator Sentenced for Obstructing Justice and Concealing Deliberate Pollution | OPA | Department of Justice).
Shipping companies which deliberately work outside the law are not in the sights of Lars Nupnau, who heads business development at marine water specialist RWO. However, he points out that if pollution occurs, regulators also punish negligence - including equipment failures that cause the damage.
According to the US Coast Guard's 2022 report covering Port State Control(Department of Homeland Security United States Coastguard Port State Control in the United States 2022 Annual Report, p19), oil filtering equipment and oil discharge monitoring systems accounted for almost half of the 22 deficiencies detected, up from just four in 2021. While three incidents involved wilful illegal dumping, PSC "witnessed systems exceeding 15PPM with no activation of the valves to control overboard discharges", and "observed control valves stuck in the open position with a build-up of corrosion in the overboard piping".

Ideas coalesce
RWO has been supplying high quality, German-made marine pollution protection systems for over 45 years as well as equipment for treating drinking and process water. It is a recognized technology leader in oil/water-separation - with over 16,000 oily water separators(OWS) delivered worldwide.
Purchasers who unknowingly choose substandard counterfeit parts – or are tempted to do so by pricing when they can't tell the difference – are taking the kind of risk that they may not fully appreciate, says Nupnau. "We are talking about fines for pollution which, as a starting point, might be a hundred times the cost of the spare part in question."
Cheap copies of the coalescers used to remove impurities in the first stage of the OWS process are widespread, says Nupnau.
"Of course, RWO prides itself for innovation and quality, where our coalescers feature a high-performance material mix and achieve a coalescent effect optimised for automatic backflush to secure long service life. Furthermore, customers are increasingly aware that RWO absorber cartridges last twice as long in service."
However, while the threat posed by rogue parts is global, pirates can also be found close to home. RWO recently scored a win in the courts over a supplier "just around the corner" which had been supplying uncertified activated carbon cartridges – the 'polisher' used to separate emulsions into their components in the second stage of the OWS process.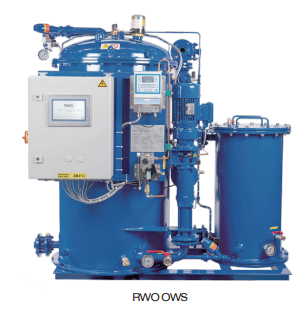 The performance imperative
A purchasing manager will be able to tell that carbon cartridges are a physical fit for the OWS, but it won't be possible to tell if they deliver the same capacity or functionality just by looking, says Nupnau. "We've found examples where the carbon wall is much thinner than it should be, and others where oil is collected in the filter for a period and then, suddenly, there's a secretion of large oil droplets.
"Class and flag state approvals are there for a reason, and part of it is that fake parts are not worth the potential costs – to safety and the environment. At the end of the day this is a filtering process which relies on the performance of cartridges that need replacing depending on the amount and quality of processed bilge water."
RWO is doing everything it can to make it easier for customers to choose the real thing over counterfeit alternatives, including by bringing added value to the support it offers to ensure compliance. MEPC.107(49) requires the accuracy of the 15 ppm Bilge Alarms of the Oily Water Separator to be checked at each IOPP Certificate renewal survey.
"RWO offers this service in an exchange program, where customers get a newly calibrated instrument, while the Oil Content Meter measuring cell is sent back to RWO for recalibration. This can be convenient and fulfils the regulation, but the regulator's true purpose would be better served if the whole OWS – including all its filter stages – was checked and maintained."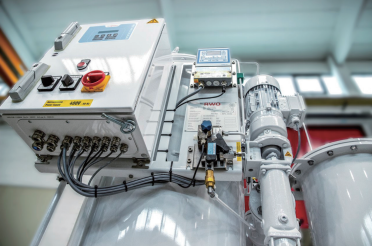 The value of service
Now owned by Erma First, RWO is part of an environmentally focused marine equipment business whose global network of stock points, service engineers and dealerships ensures that its OWS support goes far beyond compliance.
"Instead of just switching out the oil monitoring device, trained technicians can come onboard in several key locations around the globe and check the complete equipment, including performing the mandatory accuracy check. This means RWO can offer a complete OWS service package for the same cost as it would for changing out a single part."
It is a level of support also designed to dissuade owners from taking illogical actions. Even best practice owners can make strange choices when faced with the risk of heavy fines, says Nupnau. High oil content discharges made in error off Norway and Germany have led some owners to instruct crews to offload bilge water in port, at extra cost.
"Given that the installation of an OWS on board vessels is mandatory, the more logical decision would have been to invest in training," says Nupnau.
In fact - in common with the situation regulators faced when they completed the first version of MARPOL 50 years ago - approved technologies, owner best practice and crew training remain the cornerstones for protecting the marine environment, Nupnau observes. "Therefore, we salute MARPOL at 50, but at the same time we invite stakeholders to remind themselves that using counterfeit parts undermines much of the good work."
■ Contact: RWO www.rwo.de