Feature Story
New ORCA HMI devices for flexible application in Zones 1, 2, 21 and 22…
페이지 정보
작성자
최고관리자
댓글
0건
조회
97회
작성일

23-08-14 16:47
본문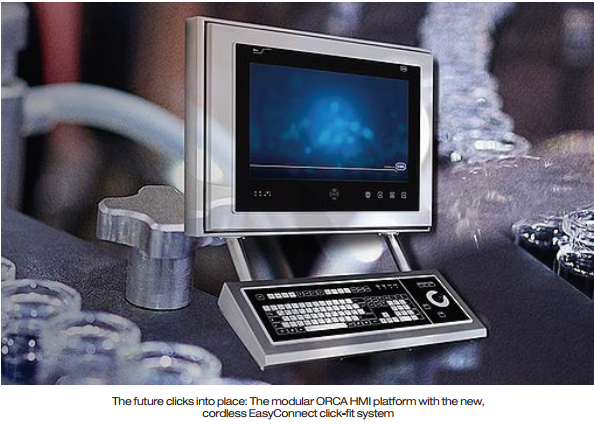 The increasing digitalisation and integration of production processes is generating a host of information that needs to be available in the field and thus also in hazardous areas. This information includes system status, maintenance intervals and MES-relevant data. To meet this requirement, R. STAHL is launching the fully modular ORCA HMI operator stations. System operators in the process industry are given a much better overview of the many types of process information generated by the system. In addition to the 22" operator station the new ORCA device platform includes a panel-mount device with three different display sizes(12", 15" and 22 for easy integration into the machine.
The new ORCA HMI device platform has other special features, too: R. STAHL separated the display from the PC unit, designing them as click-fit modules for Zones 1 and 2 as well as for Division 2. The components of a traditional operator system were split into two modules: an electronics box(E-Box) containing the computer or thin client, and a display box(D-Box) with the multi-touch screen. These boxes can be freely combined, providing flexibility during maintenance and upgrades. Thanks to the new EasyConnect concept, the display and electronics module can be separated in a few easy steps, without the need for fiddly disconnection of cabling, and the old E-Box can be replaced with a new, more powerful E-Box. This modularity makes repairs and maintenance a lot easier.


The ORCA HMI system has a high degree of flexibility during operations, too. A monitor interface has been integrated enabling users to directly connect a second screen to the HMI system. This dual monitor solution can be used to access and view two data sources in parallel. One monitor can be used to visualise the PCS, and the other to display maintenance plans for the field devices, production resource management, project control or documentation. Machine data, maintenance, logistics and QM information can also be integrated. Process operators are thus informed promptly of any changes and anomalies and can then initiate appropriate safety measures.
The ORCA devices are extremely robust, UV-resistant and, at the front, both GMP and clean-room compliant. The built-in modules guarantee overall IP66 protection and can be installed directly in the hazardous area. At the same time, the luminous widescreen displays are easily readable. The pharmaceutical industry poses a particular challenge. Professional access authority management necessitates a detailed specification of who can access what in which system. Operators usually have to work in several systems, with separate log-on requirements. Authentication via fingerprint or face ID is often not possible because operators are wearing protective gloves and face masks. R.STAHL is the only manufacturer on the market that equips its explosion-protected HMIs with a contactless RFID reader, which reduces the time required for log-on and authorised access to control system, MES and other applications to a minimum.
R. STAHL also offers a migration concept for users of older operator stations. The optional Ethernet extender interfaces make changing from traditional KVM systems to modern thin clients or KVM-over-IP easy, with the existing cabling infrastructure being retained. This ensures a smooth migration to the new platform with a continuation of the already installed basis - ready for Industry 4.0 environments, virtual server structures and cloud automation.
■ Contact: R. STAHL www.r-stahl.com