New Product
Easier and cheaper on-board helicopter refueling at naval standards
페이지 정보
작성자
최고관리자
댓글
0건
조회
86회
작성일

21-08-13 18:08
본문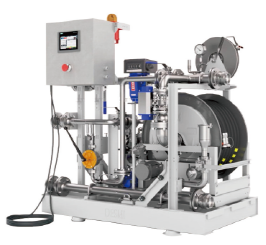 DESMI introduces a new ship-based helicopter fueling system that not only makes it less expensive but also much easier to service and maintain.
Navies and coast guards of the world now have the possibility to get a ship-based helicopter fueling system with several advantages that not only make it better, but cheaper, too.
These advantages include a new, modular design for lower overall cost and faster maintenance, lighter weight, an improved user interface that makes it easier to operate, and an integrated logistics system. All of this is in a proven design at NATO STANAG standards. This includes options for both on-deck or Helicopter In-Flight Refueling(HIFR).
As a market leader in helicopter refueling systems, DESMI has previously customized each unit for every customer, depending on their needs. While that option is still available, it comes at a cost. So DESMI has introduced a system built in modules – where customers can choose among the different pieces that fit together – "a bit like Lego bricks" – into a whole unit, according to Christian.
The modules' combinable pieces include pump units, filter units, control systems and dispenser units. Each module has up to several different options – with 21 modules in all.
For example, the customer chooses the type and number of pumps in the pump unit, the number of filters needed, the type of control system, and so on. The modularlisation means DESMI can use standardised products in each module, bringing the cost down.
Thus, customers in India, Singapore, USA, Canada, the UK, Germany, France, Italy or Spain can build a complete, modular system with the standard components for their own navy's or coast guard's specific needs.
DESMI offers the new system in three different sizes: 230 litres per minute(l/m), 480 l/m and 680l/m.
Each system comes with an optimized bottom plate in order to save weight and increase strength.
Thus, ship designers will save 20% on weight of the helicopter fuel system with the new DESMI products – a benefit for warships that need to cut down on weight whenever possible.
-TEL: +45-9632-8111
-http://www.desmi.com