Feature Story
Industry 4.0 calls for a system change in field operation Flexible ope…
페이지 정보
작성자
최고관리자
댓글
0건
조회
102회
작성일

21-02-15 16:38
본문
Classic workstations and server units are increasingly giving way to virtualised solutions that provide connected, intelligent and swift computing and storage capacities, which are far more easily scalable with lower costs and maintenance requirements. Distributed control systems and cloud applications running on virtual machines enable flexible remote access to a wide range of systems–from process automation to condition monitoring and maintenance programs through to tracking and management systems. As far as operating systems are concerned, conventional KVM systems have reached their limits here. Modern thin clients are therefore replacing them.
As Industry 4.0 will drive transformation from analog to digital operations on the production floor and beyond, the increase in the volume of data and information will become cumbersome while using legacy systems that use pure hardware-bound control and data transfer architectures. Virtual machines or cloud-connected systems have therefore become established as more flexible, efficient and instantly scalable. To provide constant secure access to process values, system status and production and maintenance processes from the field to the control station, both the hardware and the software of the field operating devices must meet the requirements of process and system control. Thin clients with Industry 4.0-optimised software are therefore replacing traditional standard computers and KVM systems for remote access to distributed control systems.
Classic variants with connection problems
Compared with industry PCs in the field, operator stations with a remote connection are the much more compact, energy-efficient and low-maintenance solution in hazardous and non-hazardous areas. The classic variant of the fixed connection of an explosion-protected HMI system with a workstation in safe areas is still a common sight in the process industry. This comprises a remote terminal that is connected to a KVM box via a copper or FO cable. The KVM box, in turn, is connected to the keyboard, video and mouse interfaces of a PC workstation in order to transfer screen data to the remote terminal and the inputs made via the keyboard and mouse to the computer. With optic cables, this means that long transmission paths of up to 2 km can be covered. Current USB standards such as USB 3.0 or 3.1 are difficult to fulfil in such concepts since the connected USB devices such as keyboard, mouse or touchscreen fail due to interferences in the industrial environment and may make it necessary to restart the host. In addition, the systems lack the flexibility to be integrated seamlessly into higher network levels.
Classic KVM systems cannot be connected directly to virtual workstations. They do not have the physical interfaces for the keyboard, video and mouse which must be provided by another PC or thin client. This type of hardware constellation is possible, but is much more expensive both to purchase and to commission and maintain. To connect operating and monitoring systems in the field closely to the process control technology and higher network levels, operator stations are therefore needed which are capable of connecting to a wide range of server architectures, including virtual machines and automation in the cloud.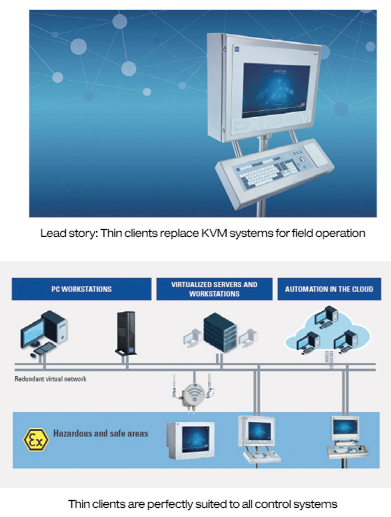 Future-proof Industry 4.0 solution
Thin clients provide a future-proof solution for operation in the process industry, from the control centre to the field, but must be optimally tailored to the requirements of modern industrial networks and be compatible with all current control systems from leading manufacturers. The most important requirement is IT security. Thin clients should therefore be closed, tamper-proof systems that can only be parameterised using passcodes. Integrity and availability are important characteristics of the firmware of these systems. Security features such as the Unified Write Filter and HORM(Hibernate Once/Resume Many) increase system stability and provide higher fail-safe functionality in industrial environments. Redundant Ethernet interfaces with automatic reconnection and change-over to redundant server ensure fail-safe operation. It should only be possible to call up applications of third party providers – such as browsers, those allowing the integration of camera images or Citrix–securely in Kiosk mode. In addition to the features mentioned above, the systems must be easily and ergonomically configurable.
The thin clients from R. STAHL have been specially developed for the process industry with the above specifications and are universally acceptable. They are available both in versions for standard industry use and in explosion-protected device variants certified according to ATEX and IECEx. Variants in a hygienic design that are suitable for clean rooms are also available. The "industrial grade"
Remote HMI V5 firmware, based on the Windows 10 Enterprise LTSB operating system, enables rights management with tiered access rights to programs and applications stored centrally or in the cloud. The clearly structured user-friendly operating interface with virtual keyboard and touch-friendly operation offers variable display options for multi-session and dual-screen display. The Remote HMI V5 firmware supports process visualisation and system operation via remote control on PC workstations, virtual server structures and cloud based applications. To do this, the firmware controls all common remote protocols–including the latest RDP version 10.2 and VNC 5.3–and thus ensures flexible access by any HMI station to virtual or real workstations in a network. Using KVM-over-IP technology, older PCs or required KVM connections can be incorporated into the network architecture. In addition to the Windows-based operating system, Linux-compatible versions can also be supplied with ThinManager via PXE Boot or IGEL OS.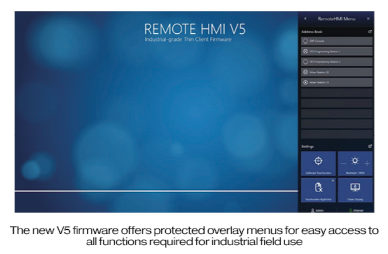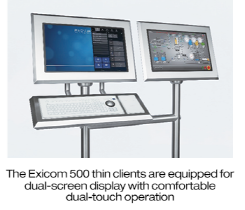 Summary
Conventional KVM systems can no longer cope with the increasingly larger networking of automation, electronics and information and communications technology. Thin clients have therefore become the contemporary solution for flexible and secure access to distributed control systems and applications via servers, virtual machines or cloud services. The Exicom 500 Series from R. STAHL provides streamlined, future-proof systems for field operation in the hazardous and non-hazardous areas, which interact with a wide range of control systems and network architectures and ensure optimum availability and system integrity.
■ Contact: R. STAHL http://www.r-stahl.com